Lisbon is becoming a very trendy destination in Europe. And for good reason! If you've never been, it's a city that's definitely worth visiting sooner than later. If it's your first time visiting Lisbon, two days should be enough to experience the city, but don't blame us if you fall in love and end up staying longer than anticipated! This 2 Day Lisbon Travel Itinerary will help you make the most of your limited time in this beautiful city.
When is the best time to go to Lisbon to avoid crowds?
Lisbon is overcrowded from a touristic point of view — not quite to the level of Barcelona, but the problem is getting worse. Although from our experience, despite the crowds, Lisbon is great at any time of the year, but we would like to recommend you three specific times of the year to avoid crowds:
Spring (March-May)
This is our favorite time to visit this lovely city. Weather is getting nice, trees and flowers are flourishing, but crowds are waiting for higher temperatures so lodging prices are reasonable, and everything is open and available for you to explore. Lisbon is at its best in the Spring!
Autumn (September-October)
Autumn in Lisbon is similar to Spring in many ways. Colors of trees are getting yellow and orange, crowds are gone after the hot summer vacation time, and lodging prices are returning to low rates, but still, everything is open for you to explore. This is the second-best time to visit this fantastic city.
New Year's Eve
The third time that we are sure is worth visiting Lisbon is New Year's Eve, including some days before and after (which are a great time to add some days to visit Porto or other parts of Portugal). Why is it such a good time to visit? The New Year's Eve main event in Lisbon is held in the Praça do Comércio — and while I would say it is not as big as in other European capitals, the atmosphere is friendly and you can see Lisbon at a great time without feeling overcrowded. Since winter is generally a slower time for tourism in Lisbon, the city is not very crowded, so again the prices are quite lovely, and the weather is usually favorable as well.
Best Way To Get To Lisbon
As with most big European cities, Lisbon is easily accessible via air, roads, rails, and even water! The problem is that the city is somewhat at the edge of Europe, so you'll most likely want to fly there, especially if you have only 2 days to spend in Lisbon. But if you have more time or live close by, you can quickly drive or take a very comfortable train that comes almost to the city center. It is also an excellent point to visit on the sailing cruise or regular commercial cruises to Portugal over the Atlantic Ocean. The city is easily accessible from the cruise terminal.
Best Districts to Stay in Lisbon
Before going to the city, you should carefully consider where you would like to stay. It will be crucial for your perfect Lisbon itinerary. Lisbon is an easy city to get around, so staying on the outskirts just means an extra 30-40 more minutes commuting instead of sightseeing, but still, if you have only 2 days, it might be essential to stay closer to the city center.
So from our experience, it's best to stay in one of the four districts: Alfama, Bairro Alto, Baixa, or Marquês de Pombal/Avenida da Liberdade. If you decide to stay in one of those districts, virtually you can walk everywhere and save on metro/bus tickets. Of course, not everyone likes to walk, so you still have all the ride options, including metro, tram, and bus.
If you are looking for budget lodging options, Airbnb in Lisbon is plentiful, and you can easily find a lovely flat for a reasonable price. If you prefer staying in a hotel, you should probably focus on those along Avenida da Liberdade or near the Marquês de Pombal – which there are plenty to choose from, and for sure you will find something perfect for you.
And we must warn you. If you are a responsible tourist and prefer to walk like us, prepare for frequent changes in elevation. Lisbon lies on seven hills. For sure, you will have to walk up and down stairs or in Alfama, a lot of steep streets. But actually, it's a lot of fun in this city! So think about walking – as it is beneficial not only for your health but also for the air contamination.
Your Perfect Lisbon 2 Days Itinerary
The city is so easy to navigate that you can easily plan a great jam packed 2 day trip to Lisbon. For this itinerary, we are assuming that you have full 2 days, meaning you arrived the night before, and you depart late afternoon of the 2nd day. If it is not your case, you can adjust this schedule accordingly.
Day 1 in Lisbon
On the first day, we recommend starting with Alfama and São Jorge Castle. Depending on where you are staying, you can begin visiting the oldest part of Lisbon from different sides. But for this guide, let's assume you start from Praça do Comércio. From there, you should follow Rua de Prata and turn right on Rua da Conceição. Walking uphill, you will reach Largo da Sé and lovely Lisbon Cathedral. It's worth to step in for a couple of minutes. The internal of this old church is fantastic.
From Cathedral, go further uphill, finally reaching our favorite Miradouro das Portas do Sol. On the way here, do not miss magnificent architecture pearl on your right. You can see a lot of azulejos on the walls. And it will be a couple of excellent viewpoints. But the best view is from the Miradouro das Portas do Sol. Relax here for a while, having a cold drink or morning coffee in one of the kiosks.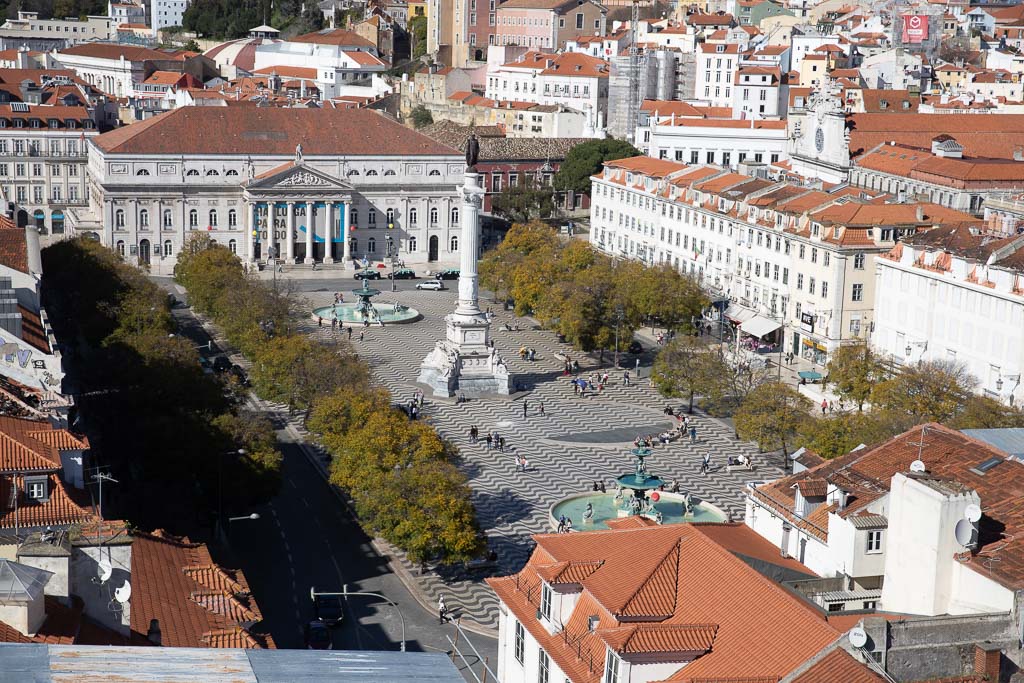 The way you get here is also a route of famous tram 28 of Lisbon. But we do not recommend taking it. As you already know, Lisbon has an over tourism issue, and you should do everything to help local people to survive, so don't take their seat on the tram. Believe us – it's much better to walk and avoid crowds. Still it might be worth to take couple of pictures of the tram with wonderful architecture in the background!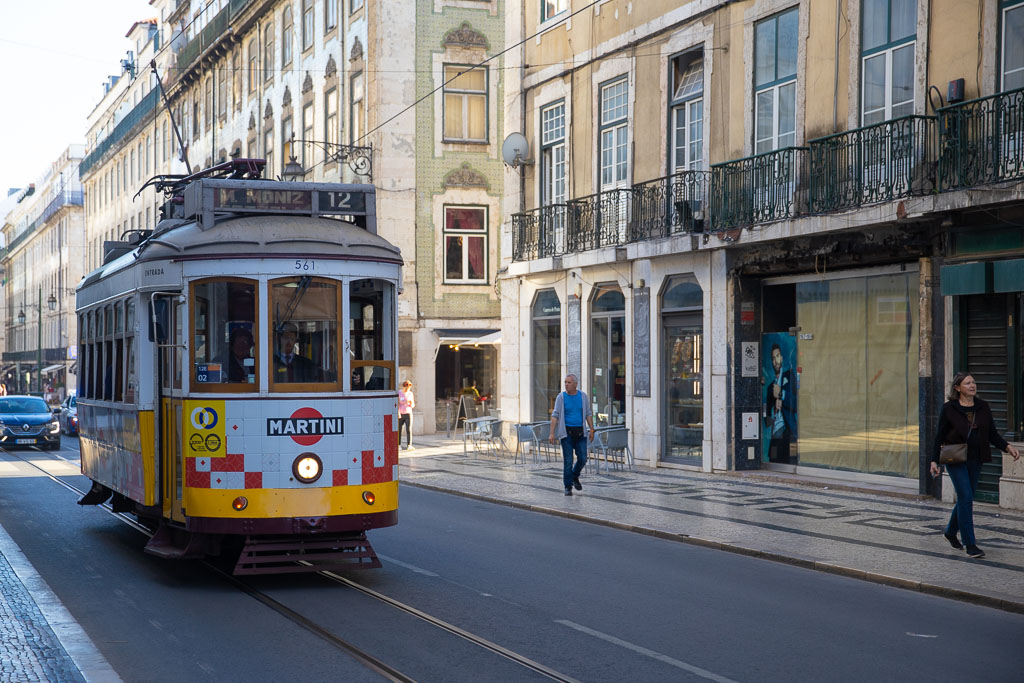 From this point we recommend to wander through Alfama and would like to mention some of the most interesting points and directions:
Fado Museum – This place should be on your list because Fado is a famous musical style strictly connected to Portugal. Music is very expressive and melancholic and is usually played with piano, violin, and accordion.
Thieves Fair – Feira da Ladra (only on Tuesdays and Saturdays) – like other cities, Lisbon has its flea market. If you like this kind of activity, you can browse through old antiques and trinkets.
Santa Engracia National Pantheon – This place is located next to the Thieves Fair. Church is beautiful and unique and acts as the national pantheon of Portugal and the final burial location for many famous Portuguese.
Rua da Graça – Miradouro da Graça – this street is less famous from a tourist perspective, but still has excellent buildings and views, so we recommend you walk this street at least a little bit. You should definitely visit the most beautiful vista point on this side of the city – Miradouro da Graça.
Castelo de Sao Jorge – this is a terrific medieval castle overlooking Lisbon. The castle itself is just another one, but if you like this kind of attractions, it's worth to get inside and see old walls and the view.

For the sunset, you should go to Miradouro da Senhora do Monte – it's an incredible spot for excellent photography but as well for relaxing in the setting sun. You will see Lisbon roofs and streets from a higher perspective.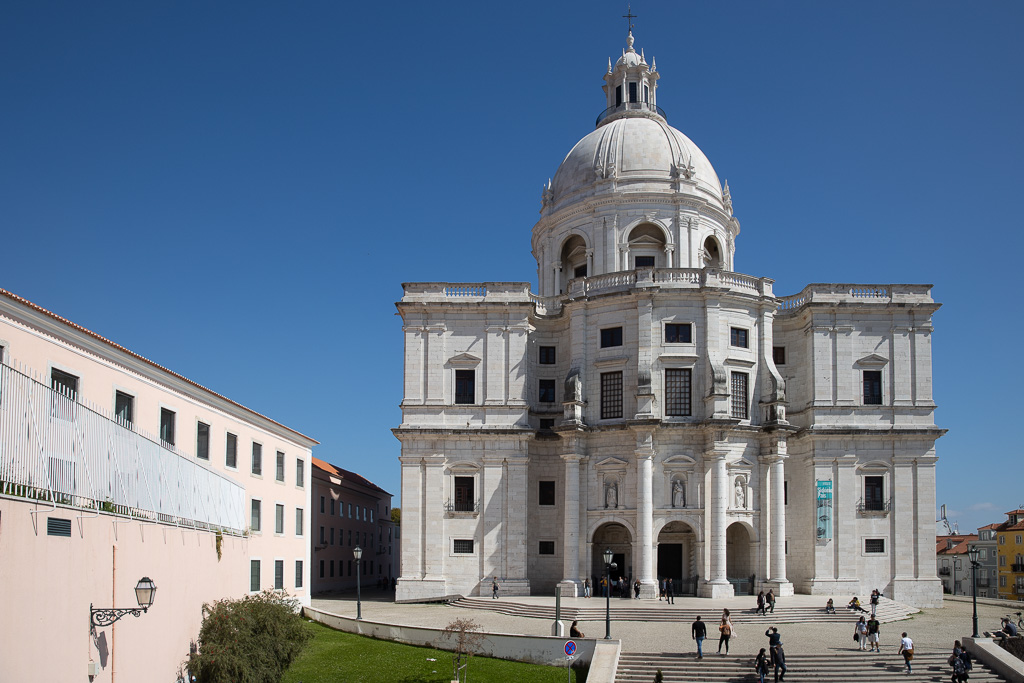 From this point, you can walk downhill and see Rossio Square and walk the streets of this lower part of Lisbon. When it gets dark, it starts living its life, and you will have a chance to find a good restaurant for dinner. But if you had an opportunity to plan ahead, we recommend to get back for the Fado show in one of the tiny restaurants in Alfama — Clube de Fado or Sr. Fado de Alfama are our favourites. Shows usually start late night, so you have plenty of time to wander. Remember that it might be difficult to get to the show without reservation, but you can always try.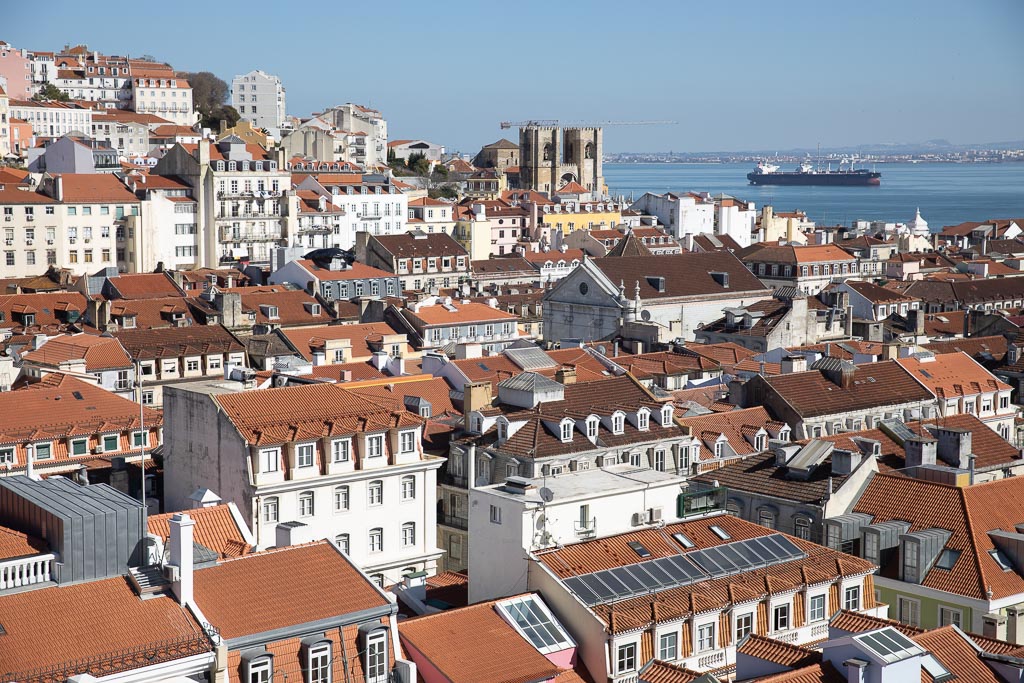 Day 2 in Lisbon
On the second day we assume you start with the same point as on Day 1. First thing in the morning you should go to the famous Elevador de Santa Justa and try to get with this to the upper city – Barrio Alto. Later in the day you will have long lines of people waiting for the elevator because this is one of the most popular Lisbon attraction. If you don't like this kind of activity, you can always walk uphill by the streets.
Getting off the lift in Barrio Alto please don't miss three places we think are worth visiting:
Livraria Bertrand – the oldest operating bookstore in the world. However, the site itself is maybe not that appealing, but still, get in and see for your own. If you don't like it, just cross the street.
Mundo do Livro – this bookstore is much more interesting than Livraria Bertrand – it has many old books and magazines, and we can spend hours browsing them here.
A Brasileira – famous cafe with a fantastic interior. You can stop here for a cup of coffee and rest a while looking at those old walls.

From there, slowly go to the Mercado da Ribeira (aka Timeout Market). On the way there, you will visit a couple of charming streets and squares. You should reach the market for lunch, and there is plenty of food options for everyone. Meals are fresh and original, so feel free to try authentic Portuguese tastes there for reasonable prices.

On the other side of the street from Timeout Market, you will find an E15 tram stop that you can catch to go to the western part of the city (get off at Mosteiro dos Jerónimos stop). You can also walk, but it's not that close – about 2km.

In this part of the city you should focus on following attractions:

Jerónimos Monastery – this gigantic building was build in the 16th century and is marked as Unesco World Heritage Site. It represents an example of King Manuel I architecture (aka Manueline style) that blends many different forms like gothic, Italian, etc.
Monument of the Discoveries – this modern era monument was built in 1960 to celebrate the Portuguese Age of Exploration in the 15th and 16th centuries
Torre de Belem – this is a lovely example of Manueline architecture – the tower was built to protect the entrance to the Lisbon harbor
Pastéis de Belém – if you are in this part of the city, don't miss the taste of original cookies. You will have to spend some time in the long line, but it's worth it if you like sweets.

When you finish this part of the city on the back to the center you can walk along the bank of Tag river – views are lovely, and you will have a bridge on the way. If you like walking, you can cross the bridge to the other side of the river to take a closer look to the Cristo Rei statue.

After visiting all the above places you probably will be a little bit tired and the evening will come jointly, so this is the best time for a great dinner. We can recommend a couple of places:

Organi Chiado ($$) – This restaurant looks exclusive, but is not that expensive. We recommend trying hummus and vegan lasagna here. You will not regret it!
Ao26 – Vegan Food Project ($$) – They have an excellent selection of food. Our favorite is Tofu Crispy Burger and "Duck" Rice. Make sure to book a table because it might be crowded.
Responsible tourism in Lisbon

As we already mentioned above, Lisbon is getting the same problem as impacted Barcelona, Amsterdam, and Venice. Especially in summer, it's overcrowded. That is why we recommend visiting Lisbon in the spring or fall – it will be fewer people and better weather (not too hot).

Moreover, you should respect the locals. One thing you can do for them is to avoid using tram number 28. It is usually full of tourists, not the local people, for whom it is dedicated as a commuting way. But the other thing might be to learn a couple of Portuguese words and try to use them in small restaurants (some even don't speak other languages!) to show respect.

Airbnb became a big problem for locals in Lisbon. You can ask why? They are earning money! But this is not precisely true – the money is made by agencies and from the perspective of locals living in Lisbon renting prices rose rapidly in the last couple of years! So please try to rent directly from the owners or stay in hotels. This way, you can try to support local people from not being able to pay their rent.
Other things you can do is to avoid gasoline-powered tuk-tuks or go-cars (they are loud and polluting!). And please remember that you discover Lisbon best by walking!