When it comes to cruise vacations on mainstream lines like Carnival, Royal Caribbean, and Norwegian – prices are a bit of a game. There's simply no way that the cruise line is actually going to make money selling seven-day Mexican Riviera cruises for only $600 per person. Cruise lines play silly games with us because they know that most of us will cave and end us spending way more money buying options, upgrades, and expensive excursions. Don't even get us started with the upcharges on drinks!
Don't worry though, while the cruise lines are the masters of the game that doesn't mean we can't turn the tables and exploit things for our own benefit by getting tons of cheap and free stuff on board the ship. Here are seven easy ways how: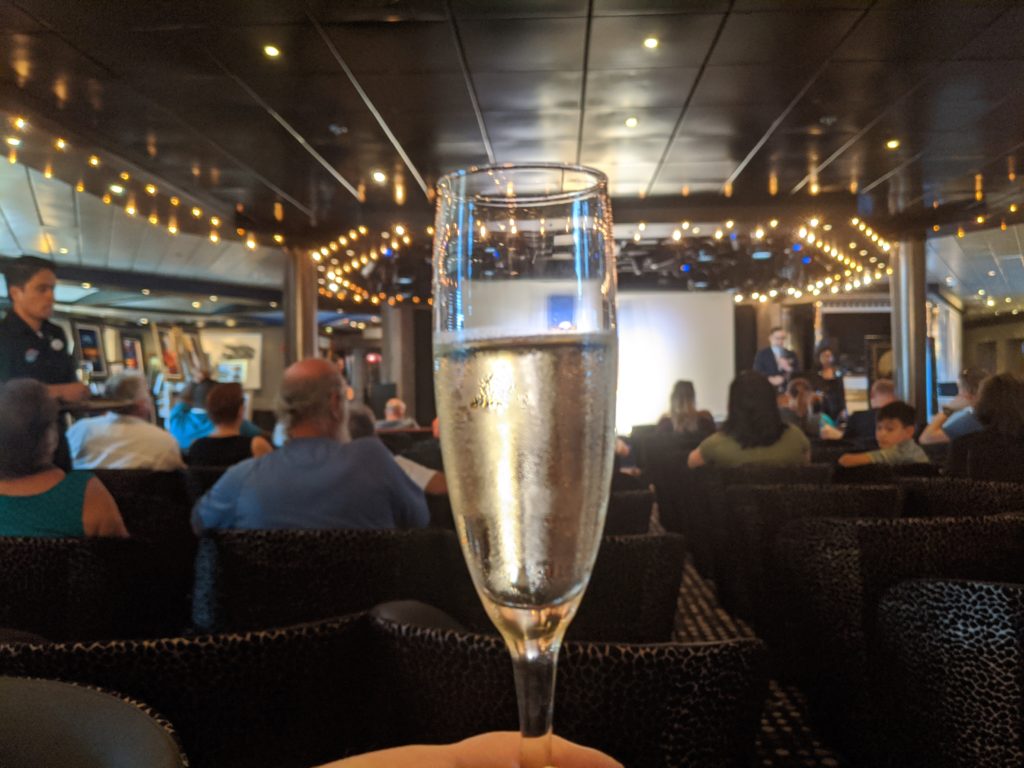 #1) Free Drinks On a Cruise Ship
Ok, this is the big money maker for cruise lines. They want to get as many people on the ship as possible since they know that you're going be a captive audience and since they own all the bars they can charge whatever they want. While some people chose a beverage packages, the prices are absolutely insane for all but the heaviest drinkers. Instead, here's some tips to help get free drinks without even trying hard.
Call into the morning TV show hosted by the cruise director and tell them about your special event. This can be anything from a wedding anniversary or birthday to just a special memory that you are celebrating. It doesn't even have to be the exact day – you could simply say "Our anniversary is next month but we're celebrating 5 years of marriage on this cruise!" Almost certainly they will send a bottle of champagne and strawberries to your stateroom later that day. I've never had this fail for me.
Free champagne at the art auction. Every art auction uses free glasses of champagne to lure people in. While it's typically not the best product in the world – it's free and bubbly!
Free liquor tastings at the gift shop. Typically on the first day or two of the cruise there will be a liquor tasting advertised in your daily cruise paper. While the intention here is to get a few small tastes of different spirits, I've exploited the by just getting back in line 2, 3, or more times to get a nice buzz going. Make sure to be fun and friendly and conversational with the host or they will kick you out.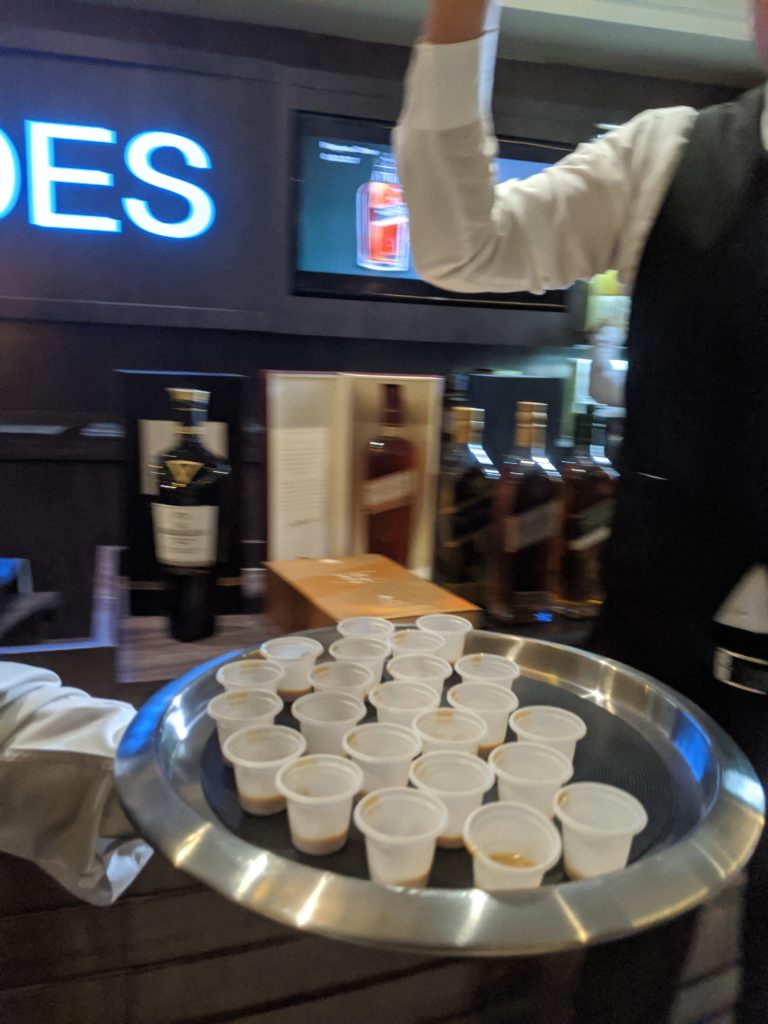 #2) Free Art At the Art Auctions
Remember that free art auction champagne I mentioned above? Well, while champagne is often provided at the beginning — free artwork is given out at the end. These are generally small prints but it's something and I've honestly enjoyed displaying some of them at home as a memory of the cruise. You'll also see several giveaways during the auction and this is a great way to also get some even better free artworks. The trick here is that they want to sell you appraisal, framing, and a required shipping fee so it's not really "100% free" though you'd still have to pay that charge even for art that you purchased.
Learn more about what to expect at a cruise ship art auction.
#3) Free Internet Access (sorta)
Unlike most hotels where Internet is a free service and for multiple devices simultaneously. Cruise ships charge a LOT of money for their satellite Internet service. So, if you have multiple people needing to access the Internet, avoid purchasing multiple plans by buying a portable travel router. For less than a $100 you can share the same internet connect plus most of them also offer VPN and firewall protection to help keep your computer secure.
#4) Free Gambling Credits
Next to bar service, the casino is the top revenue source for cruise ships. Just like in Vegas they want as many people gambling as possible so there are always events, training sessions, and new player specials. Each cruise line is somewhat different but look in your daily paper for things like classes on learning to play Blackjack or match-play specials. If you are creative you can make your gaming budget go further this way.
#5) Free Onboard Services – Spa, Fitness Classes, and More
Especially during embarkation day there are TONS of specials offered by every service provider on board. Go visit the spa, health center, and other area to see what specials they are offering. This is typically things like a buy-one-get-one for a fitness class or a 60-minute massage for the price of a 30-minute one. Occasionally you will see similar offers later in the cruise if their sales aren't at the level they predicted.
The goal of these departments is to make as many bookings as possible in the first few days so they fill all the available for the entire cruise. If this doesn't happen though, you will get notifications and see offers posted in the cruise paper.
#6) Free Premium Shampoos and Soaps
As cruise lines look for ways to cut back, soaps and shampoos as well as other amenities are disappearing from the lower priced cabins. Don't worry though, the key here is to make friends with your cabin steward and express to him or her that your hair is really dry or you forgot your face lotion and the sea air is making you uncomfortable. The staff on cruise ships are some of the most accommodating and helpful people that I've ever met and while this won't work on every ship you sail on – it will work more often than not.
What happens here is that the staff is VERY good at reading who will be a good tipper at the end of the cruise and they can grab some of the premium amenities designed for the "spa cabins" or suites and have them show up discreetly in your bathroom as well.
#7) Free Cruise Swag and Souvenirs
Embarkation day promotions, contests, gift shop giveaways, and games run by the entertainment team all have tons of swag to win ranging from hats and shirts to "Ship On a Stick" as well as some nice prices like jewelry charms and necklaces.
While some you must compete for, others are downright free for anyone that signs up. For instance, on my last cruise the jewelry store was giving out free charms to anyone who filled out the registration form. You didn't even have to buy the bracelet it was designed for!
#8) Free Onboard Credit
If you know that you'll be sailing again soon then make sure to check out the loyalty desk and ask about future cruise specials. Like many of these tricks to get free stuff on a cruise, this one varies heavily by cruise line and their marketing plan. However, typically you can get anywhere from $50 to $200 of free on-board credit for your next cruise by placing a deposit on it right there during your current trip.
Sometimes these deals are structured even better so that it's $100 now and $100 in the future.
The big takeaway from all of these travel hacks to save money on a cruise is that you need to be observant and avoid being pulled into opportunities to spend money. Don't go to the art auctions to get free champagne and then bid on art or spend $200 to get the print you won framed and appraised. Unless you want to! Afterall, this is your vacation and you should always have as much fun as you want to.